09 May

Varsity Track & Field Season Recap

Posted at 3:20 PM on May 9, 2019,

in

Athletics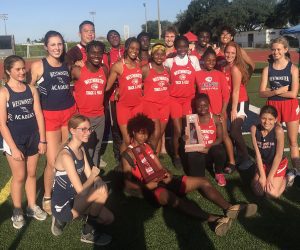 Both Ladies' and Men's Varsity Track and Field teams shared successful 2019 seasons. First, on the ladies' side, freshman Shyanne Scott qualified for her second state championship in the 200m. Shyanne captured the districts titles in both 100 and 200m en route to her state appearance. She would also use the services of Sara Williams, Whitney Boothe, and Vashni Drackett to take another district title in the 4x100. Arion Session-Walker also made her mark consistently finishing in scoring spots on the season.
The young men's team produced District Champion Ryan Gayle in the high jump and Donovan Lassiter in the long jump. At the Regional Championships, senior Lamel Thomas dismantled the field and won with daylights between him and the other competitors despite suffering a season-ending injury during the race. Donovan teamed up with Micah Lewis, Taylor Everett, and Tobias Lewis and put on an exhibition claiming the 4x100 title. Junior Steven Tinsley swept the Shot Put and Discus on his way to a second place finish at States in the discus. He also took 6th in the Shot Put. Our men's team still ended with a top 20 placing on the season at the state meet. Newcomer Aaron Shi, showed a lot of promise for the future in several events. David Zhu continues to develop and should show very strong in the field events next year.
With so many athletes returning next year, the future looks very bright for the WA Lions Track and Field Program!