23 May

Varsity Baseball Season Recap

Posted at 4:22 PM on May 23, 2019,

in

Athletics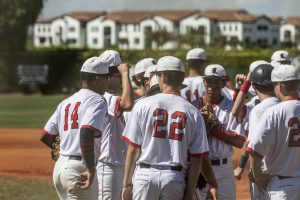 The Varsity Baseball team enjoyed another solid season in their spring campaign. Despite returning only one starter from the regional-qualifying 2018 team, the team celebrated success. The young Lions finished runner-up in the district. They also made it to the Regional Semi-Final game for the second year in a row. However, they lost with a 1–0 heart-breaker to nationally ranked Florida Christian.
The Lions ranked in the top 10 in Broward County by season's end. The pitching staff finished number one in all of Broward County in strikeouts, averaging nearly ten per game. The staff was paced by four arms in particular: senior JD Johnstone, junior Jimmy Weick, and freshmen standouts, Evan Dobias and Brandon Barriera.
A special congratulations to four of the boys selected as first team All-District players: Logan Riedel (OF), Diego Mendoza (C), Miguel Sosa (INF) and Brandon Barriera (P). In addition, the Lions also had three seniors selected to play in the HSBN ALL-STAR game at Marlins Park: JD Johnstone, Logan Riedel, and Diego Mendoza.
The Lions graduate five seniors, four of whom will be moving on to play baseball at the collegiate level.