07 May

Spring Cleaning With Meaning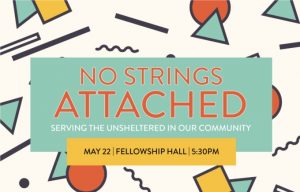 On Wednesday, May 22, Coral Ridge Presbyterian Church will welcome hundreds of homeless men and women from Broward County for a sit-down dinner and entertainment. In addition, the church will offer haircuts, bike repair, clothing, and showers. All is given with no strings attached.
Westminster Academy will hold a clothing drive to benefit this event. Therefore, kindly launder and fold men's and women's items into bags or cartons. Lower school students can drop their items off at the school's Welcome Center, and upper school students can bring their items to the Upper School Office.
Men's items needed urgently:
Jeans, pants, and shorts
Shirts (casual and dress)
Socks and shoes (sneakers and sandals)
New undergarments
Sweatshirts and hoodies
Baseball caps
Personal items needed:
Towels and washcloths
Toiletries (soap, shampoo, toothpaste, toothbrush, etc.)
Sanitizer or wipes
Rain ponchos
Light Blankets
Backpacks
Small umbrellas
Finally, if you would like to help show the love of Jesus to the hurting in our community, the church needs volunteers as well. Volunteers will serve dinner, help guests pick out clothes, and more. Because of the time commitment, students will receive service hours.
Thank you for spring cleaning for the hurting in our community!