16 May

Senior Send-Off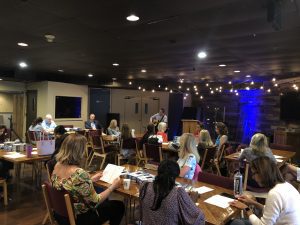 The senior class left on their final journey together today. This week-long trip gives students a chance to reflect on their time at WA, make new memories, and receive final words of wisdom from Mr. Walt Jominy. With the exciting activities planned, this trip will surely be memorable.
Their first stop is in Georgia for a zip line canopy tour: five hours of zip lines, high ropes, and a 100-foot free fall. Then, the seniors stay at a working horse ranch in Tennessee, which is owned by a family that helped build Westminster Academy. Activities at the ranch include a waterfall hike, paintball, mud race, horseback riding, and line-dancing. The group then travel to Virginia to ride a 17-mile mountain bike trail that intersects with the Appalachian Trail. The next day, they whitewater raft on the Nolichucky River. Finally, they end their trip enjoying a mountain coaster, indoor water park, and go-carting.
Before seniors boarded their buses, parents began the morning preparing for their next trip—down the aisle for Commencement. A long-standing tradition at Westminster Academy is the gift of a personalized Bible for each graduate. Even though our students complete their coursework, this gift acknowledges they will be lifelong learners of one Book. Therefore, in the spirit of tradition, the Lions' Parents Association gathered parents to wrap each Bible and pray over the gifts and for the recipients. Thank you, Nicole Joseph and Alejandra Ora, for taking the lead and organizing this year's endeavor. And thank you to the parents who felt led to assist.
The tradition lives on, and now we wait for May 31 to celebrate the next chapter for these students.