09 May

Middle School Students Receive Year-End Awards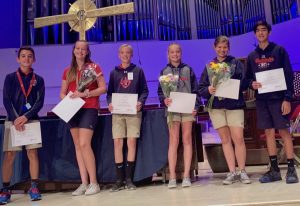 While the year draws to an end, the Middle School gathered Wednesday, May 8, to celebrate many accomplishments. Faculty recognized students for athletics, academics, fine arts, and technical achievements. The morning culminated with the announcement of the Lion Awards. For this particular award, faculty vote for one male and one female student in each grade to receive one. They select students who exemplify ideals of character, academic pursuit, and overall excellence. This year's recipients are Karl (KJ) Hill and Maddie Wallhoff for the sixth grade; Mia Harms and Christopher Moody for the seventh grade; and Spencer Jones and Chloe Wright for the eighth grade.
"My heart is overcome with joy to be able to present these amazing students with Westminster Academy's highest honor," said Mrs. Collins, Middle School Guidance Counselor.