30 May

Fifth Grade Promotion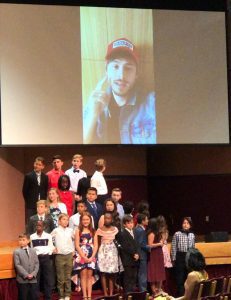 The class of 2026 celebrated their promotion from fifth grade into middle school on Wednesday, May 29. Gathered in the Kennedy Fellowship Hall at Coral Ridge Presbyterian Church, the fifth-grade students primarily conducted their own program.
It began with pledges led by Jack Scott, Nathaniel Lencse, and Maria Wiemerslage and an opening prayer by Student Council Prayer Warrior, Andrew Lencse. Student Council President, Addison Dannheim, welcomed the parents. Following, Olivia Oropesa, Daniel Delgado, and Ryan Rivers shared their reflections. Then, teachers, Mrs. Hatch, and Mrs. Wood gave special awards and class certificates.
Students received a surprise video greeting from songwriter, singer, (and former WA student!), Cory Asbury. Best known for his song "Reckless Love," Cory won GMA Dove Awards for both the Song of the Year and Worship Song of the Year after its release. The single album cover pictures Cory in his WA uniform! Parents then enjoyed hearing the fifth-grade students sing that very song. Then, the event concluded with a closing prayer from Fifth Grade Prayer Warrior, Brianna Boynton.
We are excited to see the Class of 2026 advance through WA into the Upper School. We pray these students enjoy a great summer and come back refreshed for the new season ahead.