07 May

Eighth Grade Visits Junior Achievement's Finance Park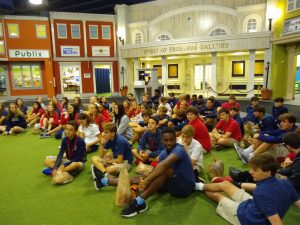 The eighth-grade students attended Junior Achievement's Finance Park at Broward College last week with their LAUNCH class. The students spent eight weeks preparing for the trip by exploring different career choices and planning for the future. More specifically, students learned about paying taxes, saving and investing, managing risk, utilizing credit and debit, personal spending, and creating a budget.
Finance Park provided students a realistic setting to implement their new skills. Teachers assigned students an occupation and an income. The students then had to create a budget and live within their means. Other requirements also included tithing and saving in their budget. The eighth-grade team of teachers enjoyed assisting the students in balancing their budgets and identifying the difference between wants and needs. The opportunity to take classroom learning and apply these life skills in a realistic setting was invaluable.