02 May

A Word From Mr. Satterly—May 2, 2019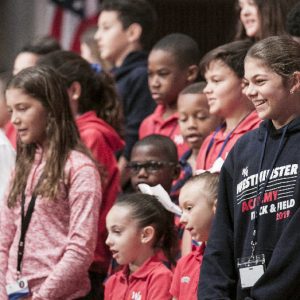 Dear WA Community,
Our school community gathered this morning for the National Day of Prayer. As a result, we joined Christians all over our nation, calling out to God. E.M. Bounds, an 18th‐century pastor who is often considered an authority on the subject, noted, "prayer is God's plan to supply man's great and continuous need with God's great and continuous abundance."
Because of the blessing of a unit school, WA has a remarkable approach to how we observe the National Day of Prayer. It is a school tradition to pair our upper school students with our lower school students. With their prayer buddy, they are prompted through their prayer time. This year, we opened with our kindergarten and sixth-grade classes leading us in the Lord's Prayer. For a few pictures, please see our Facebook album.
In his proclamation for today, our president wrote, "I invite the citizens of our Nation to pray, in accordance with their own faiths and consciences, in thanksgiving for the freedoms and blessings we have received, and for God's guidance and continued protection as we meet the challenges before us." Therefore, today, we lifted up the church, the city, the nation, and our world in prayer. Challenges stand on all of these fronts. From the turmoil in Venezuela to the divisiveness of our own nation to the ever-developing city we call home, and the increasing hostility toward Christianity, we pray. Above all, we look to our heavenly Father for guidance and protection.
May today be a strong reminder that God's bounty and desire far outstrip our deep need. Let it also prod us to rely on that very source instead of our own effort and work. May we be a people of prayer!
Grace and peace,

Joel T. Satterly
Headmaster