05 Mar

WA Baseball Gets Renovation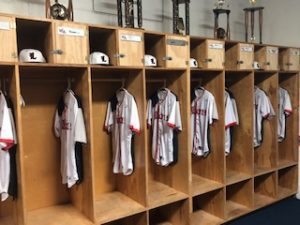 The WA baseball season officially began last week with Opening Day on Thursday, February 28. Thanks to preseason preparation and supportive parents, our team is ready for a winning season! While the team worked on their baseball skills on the field this past month, their parents showed their trade skills on the facility. A workday proved fruitful with over 30 parents and players who volunteered their time to prepare for the season. Painting, cleaning, building, and organizing around the Athletic Complex ensured the team was ready to hit the ground running on opening day. In addition, the parents took the lead and completed a total renovation of the concession stand. New sub-flooring, flooring, drywall, lighting, and appliances together make it a brand new space, thanks to these devoted fans.
"They have really bought into the program and the vision, and I'm so appreciative," said Coach Nick James, head baseball coach. Come see for yourself! Plan to take in a game this season. Go Lions!