05 Mar

Second-Grade Spelling Bee

Posted at 3:15 PM on March 5, 2019,

in

Academics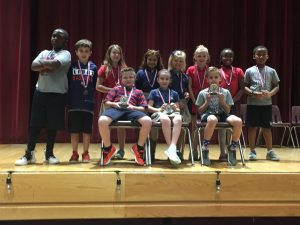 On Tuesday, March 5, Westminster Academy held our second-grade spelling bee. The students were well-prepared and excited to show their spelling expertise. After 13 rounds of intense competition, Lariza Ora won the spelling bee. Words that were spelled correctly and led to the final round were: "eliminate," "stylish," and "knelt." Alex Scott placed second, and Preston Pacienza won third place.
Second Grade Spelling Bee:
First Place: Lariza Ora
Second Place: Alex Scott
Third Place: Preston Pacienza
Spelling Bee Participants:
Grace Barbar
Francesca Boeri
Caleb Carisma
Mckenzie Dannheim
Trahern LaFavor
Rylee Muharsky
Lariza Ora
Preston Pacienza
Tanijah Reed
Alex Scott
Rush Wheeler