13 Sep

Gangway Invites WA Students To Share Their Faith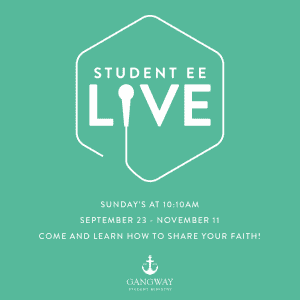 Most people who trust Christ do so before they turn 18. Therefore, to empower and mobilize students to share their faith, Coral Ridge Presbyterian Church will host Student Evangelism Explosion (EE) classes beginning Sunday, September 23, at 10:10 a.m. in Gangway. The student ministry invites anyone who wants to reach their generation for Christ.
"It is an effective tool for a conversational approach to sharing the Gospel with others," says Sarah Maba, Girls' Ministry and Outreach Coordinator. "It is a powerful way to strengthen your faith and develop a Gospel‐centered mindset!"
The Summer EE Mission trip will include all students who attend the Fall and Spring semesters of EE.