08 May

WA Uniforms Get New Life In Kenya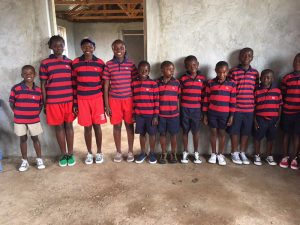 Thanks to the partnership of our PTF and alumnus, John McKay '98, students in Kenya have new clothes to wear to school. The clothes come from our uniform bank. Because our PTF manages the clothing donations, they sort through the uniforms given. PTF set aside the older and non‐compliant pieces and then deliver them to John. When John visited Kenya last month, he personally delivered three 50‐pound bags to children in need.
If it weren't for a local pastor, Pastor Shigonde, these children would be living on the streets in Nairobi and in grave danger. Since these children have no family, this pastor takes them in. He then provides food, shelter, and education through Maridhiano Ministries. Because of John's donation of WA uniforms and shoes he purchased, these children have new clothes as well.
We thank John for thinking of his alma mater and giving WA a chance to serve this pastor and the children in his care. There is amazing ministry happening in Kenya through John and his wife, Kimberly, with Maridhiano Ministries. To understand the significance of the rescue and rehabilitation of these children, please visit maridhiano.com.