09 May

WA Runners Come Home State Champions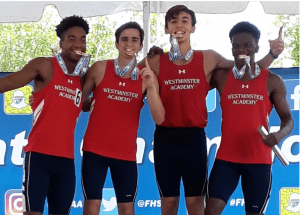 While we welcome home all 19 Track and Field members from their State Meet, we celebrate the 4x800 team's win. Sophomore Dimitri Selimos, senior Saahr Edouard, senior Josh DeAngulo, and senior Nick Rowe ran their last race together. Finishing at 8:16.13, they took the 1A 4x800 title and came home state champions. This finish is a back‐to‐back win for WA who placed first last year as well in the same event.
About the runners, Coach Vaughan Nembhard explained, "I was nervous, especially after the very fast time Mount Dora ran in heat one. But, our kids wanted it more and pulled off a very close win by .04 seconds. I am very proud of our athletes."
Hear the WA students' reaction to their win in their interview with FloridaRunners.com.