15 May

Students Perform Beauty And The Beast This Week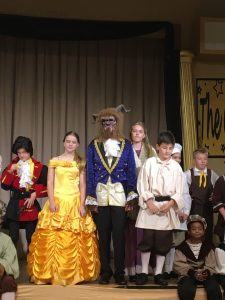 The lower and middle school cast of Beauty and the Beast have been hard at work since their auditions in December. Starting last week, the cast of 33 students have amazed their audiences with this special "junior" version of the familiar classic. Last weekend, the cast performed excerpts at John Knox Village, and most recently, for the middle school and the Keenagers of Coral Ridge Presbyterian Church.
"Everything about the show from the beautiful sets, to the amazing costumes, the awesome acting and fantastic singing bring joy to the hearts of all ages," says Mrs. Lisa Wilson, Director of Fine Arts. Many have invested countless hours in these students to create a quality show. Many parent volunteers have contributed, Mrs. Lidia Blatz taught the singers, and Christye and Jeff Crevier choreographed the dancing. Director, Mrs. Patricia White, is incredibly proud of her cast.
Finally, last night was the first of two public performances in Kennedy Fellowship Hall. If you missed it, they perform again tonight at 7:00 p.m. The last show will be Friday morning at 8:30 a.m. for the lower school students.
Admission is FREE to everyone! Please plan to attend!