24 May

Media Center Renovation Funds Reach 97%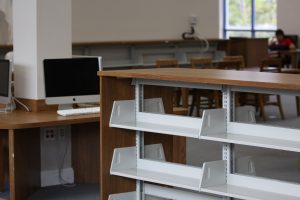 Last week, we announced we reached 95% of our fundraising goal to renovate the Dr. Kenneth P. Wackes Media Center Renovation. However, as we conclude the last day of school, we are excited to share we are now 97% to completion!
For those of you who frequent the campus, you saw librarians and facilities staff preparing both spaces for summer construction. But, we still need your help to be fiscally responsible and stay on track. We are nearly there, and it could be your contribution that completes our fundraising! Please show your support for this project by donating today. When you see the new media center in the fall, you will want to know you were part of making it happen!
The new media center allows WA to adapt to ever-changing instructional methods and technology. It will also provide space on campus for individual and group study. From preschoolers through rising seniors, this is truly a school-wide project that will benefit every student. We are grateful for every gift of any size. But, all those who make a gift of $5,000 or more will be recognized on a plaque in the media center. You may give online at wa.edu/mediacenter or mail a check to the school. Thank you for partnering with us this year and please email Sarah Hajduk, Director of Development, if you have any questions!