02 May

Fifth-Grade Students Visit Pigeon Key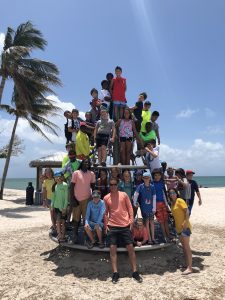 Fifth-grade students, teachers, and chaperones headed to Pigeon Key on Wednesday, May 2, to study marine life. With 61 participants, this three-day trip will take place off of mainland Marathon. During the trip, students will occupy their time learning about marine invertebrates, Florida Keys habitats, and identifying local fish. While marine life is the focus, the trip includes learning the history of Pigeon Key, snorkeling at Sombrero Reef, and fishing.
Pigeon Key is a 5‑acre island that once held 400 workers during the early 1900's while the Old Seven Mile Bridge was under construction. The stop at Sombrero Reef allows students to experience the third largest barrier reef in the world. They, as well as the teachers and chaperones, are having a wonderful time and making memories that will last a lifetime.