24 May

Eighth Grade Celebration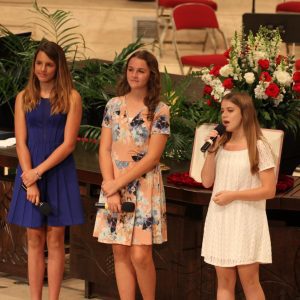 The class of 2022 celebrated their promotion from eighth grade into high school on Thursday, May 24, in the sanctuary at Coral Ridge Presbyterian Church. The celebration began with pledges led by Student Council President, Andrew Brantmeyer and scripture reading by Student Council Vice‐President, Tobias Lewis. Then, the eighth grade orchestra performed "Stone Mountain Stomp." Middle School Counselor, Mrs. Laura Bevill, then presented several prestigious awards along with her colleagues. Please join us in congratulating the recipients of the following awards:
The Pinnacle Award:
The Lion Awards:
Erisa Papajorgji and Evan Dobias
The Leadership Award
The Spiritual Leadership Award
Fruit of the Spirit Awards:
Love — Veronika Ferrell and Joanna Molfetto
Joy — Paul Anselmo and Amanda Jones
Peace — Tori Barbar and Brandon Marti
Patience — Jason Youstin and Emily Graham
Kindness — John Fratello, Emma Weissman and Michael White
Goodness — Catherine "Cate" Geiger and Chris Spencer
Faithfulness — Lucas Almeida, Kamryn Casey, and Leeya Kim
Gentleness — Emmy Vlamis and Sydney Tomczak
Self‐Control — Giovana "Gigi" Milora and Matthew Selbach
Overall Fruit of the Spirit — Audrey Whiteman
The Barnabas Awards:
Tori Barbar and Andy Brantmeyer
After a trio of Sarah Larkin, Pauline Baxter, and Amanda Jones sang "I Will Rise," Mr. George Barbar '98, School Board Chairman and WA Alumnus, shared his reflections as the keynote speaker. Following his address, the students each walked across the stage to receive their certificates and enjoyed a short movie of memories from their eighth grade year.
Please pray for this upcoming high school freshman class as they move on to the next chapter of their lives. Congratulations to the class of 2022!