02 Nov

Christmas Boutique This Weekend!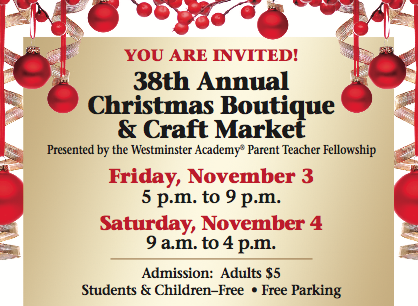 The 38th Annual Christmas Boutique is finally here this Friday, November 3, and Saturday, November 4. Over 90 local artists, crafters, and retail vendors share their high‐quality, handcrafted and non‐handcrafted gifts, unique home and holiday décor, jewelry, woodworking, clothing, and other specialty items. Enjoy the spectacular Bakery & Candy Shoppe and visit the Kid's Korner which features our youngest entrepreneurs promoting their skills, products, services, or crafts.
Admission is $5, and children are free. Complimentary parking.
Times:
Friday, November 3,

5:00 p.m. to 9:00 p.m.

Saturday, November 4,

9:00 a.m. to 4:00 p.m.
Volunteers will be available to receive your baked goods during the lower school pickup at 3:00 p.m. on Thursday, November 2 or during morning drop‐off at 8:00 a.m. on Friday, November 3. You may also deliver your baked items directly to the Kennedy Fellowship Hall on Friday morning. For more information, please email christmasboutique@wa.edu or call Melissa Scasserra or Lisa Hibler at 754.444.1607. Thank you for your support!