26 Oct

Volunteers And Bakers Needed For The Christmas Boutique

The annual Christmas Boutique is quickly approaching on Friday, November 3, and Saturday, November 4. The Parent Teacher Fellowship is seeking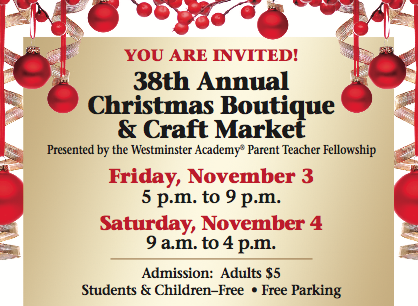 volunteers to set‐up and bakers to help whip up some yummy treats for the Bakery & Candy Shoppe! Please sign up online to get involved. Select November 2 to sign up for baking and indicate in the comment section what you will bring. Volunteers will be available to receive your baked goods during drop off during the elementary pickup at 3:00 p.m. on Thursday, November 2 or during morning drop‐off at 8:00 a.m. on Friday, November 3. You may also deliver your baked items directly to the Kennedy Fellowship Hall on Friday morning. For more information please email christmasboutique@wa.edu or call Melissa Scasserra or Lisa Hibler at 754.444.1607. Thank you for your support!