02 May

FIRST Robotics Championship In Houston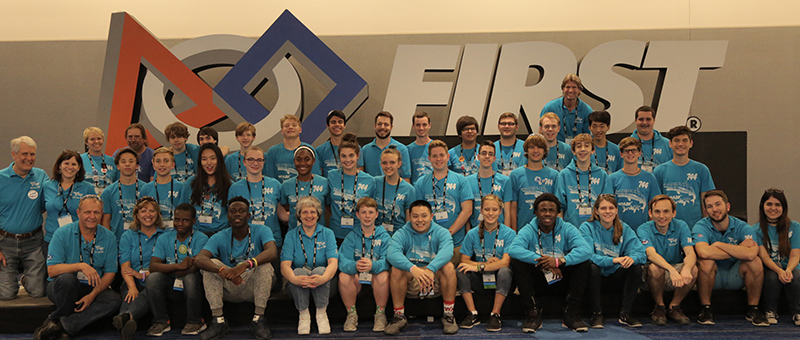 On Tuesday, April 18, through the Sunday, April 23, your WA High School Robotics team, FRC Team 744—Shark Attack, had an amazing trip to the FIRST Robotics Championship in Houston, Texas. More than 65,000 people attended the competitions in support of 1,394 FIRST Teams including 400 of the best FIRST Robotics Competition teams in the world. We had the great pleasure of competing with more than 60 FRC teams in the Newton Division—the toughest division at Worlds.
During the competition, our team continued to improve the robot by improving the climber, which was able to climb the rope in 2.5 seconds. The shooter was also improved with the addition of flywheels embedded in the shooter wheels. Our programming crew unveiled new autonomous routines in the first two days of competition. Our survey and strategy groups truly operated at a world class level providing drivers up to date intelligence and winning strategies throughout the competition. These improvements and others helped our team to finish the qualifying rounds in Newton Division in 10th place. We rose to become the 7th seed alliance captain and had 3 great alliance partners (Team 3847—Spectrum, Team 900—The Zebracorns, and Team 5012—Gryffingear). The strategy team did a great job in preparing plans to compete against a very tough 2nd seed alliance. In a tie‐breaking match, we lost by just seven points, 452 to 445. The second placed team we lost to breezed through the Semi‐Finals and would have won the Finals except for one robot that stopped running during a critical game. Our WA robotics team was very competitive at the world championship! Our young drive team was truly amazing!
The team would like to thank all of our sponsors, mentors, parents and fans for all their great support. We look forward to continuing to grow and develop our team during the Summer Robotics Institute and our off‐season competitions in the fall!
Go Shark Attack! Go WA!