10 Apr

WA Students Welcome Veterans Returning From D.C.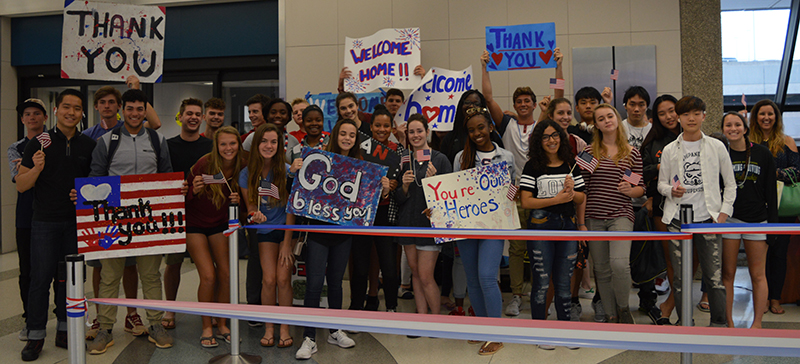 WA high school students welcomed home veterans at the Honor Flight Homecoming event on Saturday, April 8. This is the fourth year Mrs. Perry has brought her students to this event. Students and families met at Fort Lauderdale‐Hollywood International Airport in the evening to welcome home the WWII and Korean War veterans. While in Washington, D.C. for the day the veterans met Senator Bob Dole at the WWII memorial, saw the changing of the guard at the Tomb of the Unknown Soldier, and visited the Iwo Jima Memorial.
On the flight home, veterans received letters of appreciation during "mail call"—many of which were written by our students. Mail call and the homecoming are both surprises for the veterans.
The mission of Honor Flight South Florida is to transport America's veterans to Washington, D.C. to visit those memorials dedicated to honor their service and sacrifices. Their goal is helping every single veteran in America, willing and able of getting on a plane and a bus, visit their memorial.
At the final Honor Flight planning meeting, there were 77 veterans—51 World War II and 26 Korean War vets—registered for the flight to Washington, D.C.