30 Mar

Middle School Life Science & Engineering Field Trip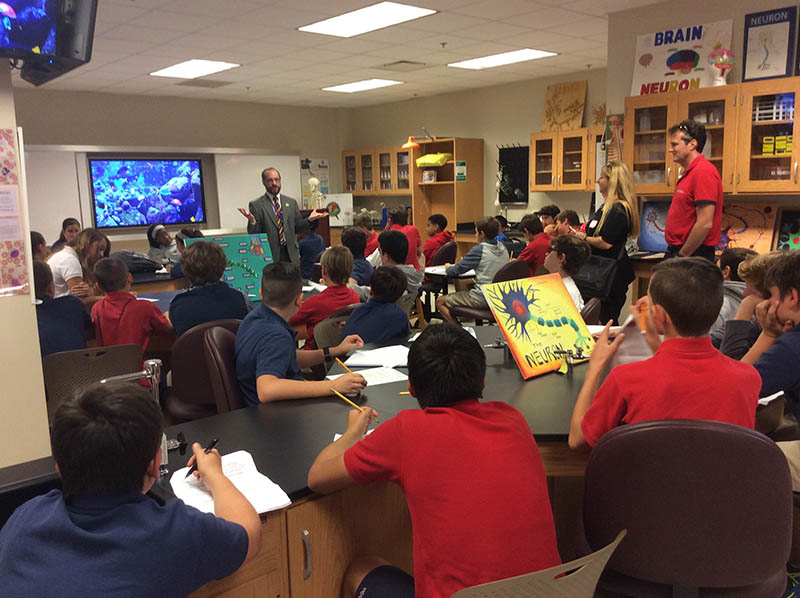 On Wednesday, March 29, our Middle School Life Science and Engineering classes, led by Mrs. Coury, went on an educational field trip they are unlikely to forget! Hosted by Dr. Floralba Arbelo‐Marrero, Amy Ellis, Ph.D., and Jaime Picanol, Psy.D., of Carlos Albizu University, our students and chaperons were welcomed with refreshments, then they split into two groups and taken to see one of the presentations.
Our Life Science students began by sitting in with Dr. Amy Ellis to discuss biology, life sciences, scientific observations, mental health, and careers in psychology. She was able to conduct psychology experiments using simple materials and discuss the scientific method in psychology experiments. Dr. Ellis taught the students about mental health awareness by having interactive discussions with them while they took notes, observed, and reported back on the types of behaviors identified. She was also able to present and discuss the careers in psychology.
Our Engineering students began in the Exhibit with Dr. Picanol, where he focused on forensic psychology, neuropsychology, and Criminal Justice. Dr. Picanol went over learning, memory, and cognition in psychology. He demonstrated the scientific method using the laboratory mice and mazes, and a discussion related to his students' science projects allowing for a question and answer period.
Once the presentations were completed the classes switched to get a chance to hear from both professors.
Students, chaperones, and parents alike were impressed by the information shared and were thrilled to see everything the professors were teaching them. The Carlos Albizu University was an amazing host, and our students are extremely thankful to have been given this opportunity.