30 Nov

Sponsor A Recycling Bin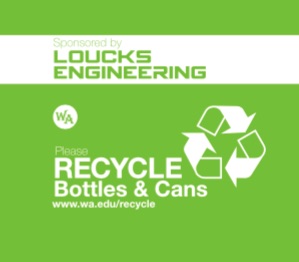 Beginning in 2017, you will see recycling bins throughout our campus. WA Sophomore Arianna Loucks launched the Green Club which is devoted to promoting recycling. Students receive service hours for emptying the recycling bins each week in shifts. Sponsorships from both companies and dedicated individuals, as well as student‐organized fundraisers, will help pay for the cost of the recycling bins and pick‐up fees.
Please consider sponsoring a bin on campus for $500. Your commitment as a sponsor enables the Green Club to educate our community about caring for our environment and take action to generate less waste and teach students to recycle. In appreciation for your support, your business or family name will be recognized on the recycling bin label. For more information or to sponsor a bin, please contact Sarah Hajduk, Interim Director of Development at 954.771.4600, ext. 2504 or hajduks@wa.edu.