03 Nov

FRC Team 744—Shark Attack Has a Great Fall Competition Season!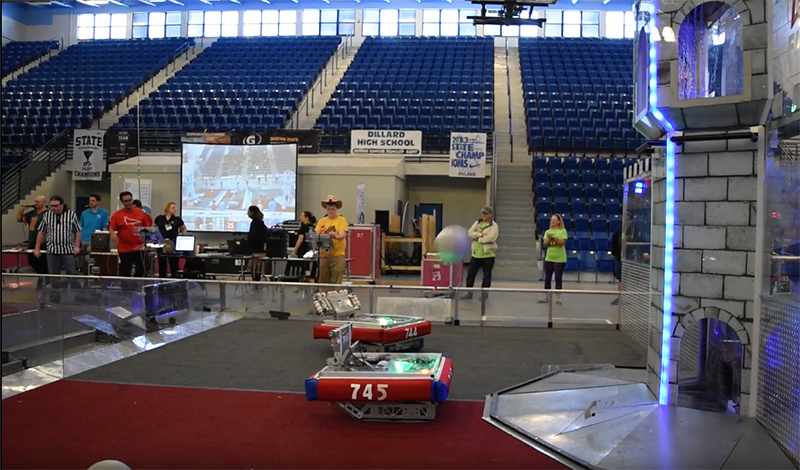 On Friday, September 23, and Saturday, September 24, your WA High School Robotics Team traveled to Florida Institute of Technology to compete in the Panther Prowl, a FIRST Robotics Post‐Season Competition. Our Team arrived early and assisted with the set up of the pit area under the direction of event lead Paul Kepinski, a graduate of our robotics program. Congratulations to Paul, a recent FIT engineering graduate. After some vexing problems with field connections, our two robots played well, finishing the qualifying rounds in 3rd and 14th place among 31 robots. We finished the day with a first place finish! Our young team performed very well. For our six new drive team members (Isaac Hobby, Jennae Katic, Tommy Kline, Sebastian Molina, human player Frank Angione, and drive coach Alex Warters) this was the first chance to compete, and they did an amazing job. Thanks to veteran drive team members (human player Jared Yu and coach Lauren Cooley) for their leadership and contributions to our success. Pit Lead Connor Bachan and Survey Lead Keri‐Anne Lue provided great leadership in a competition with many schedule changes and some technical challenges.
On Friday, October 21, and Saturday, October 22, our team competed at Mission Mayhem, our final FIRST Robotics Competition in 2016. Our team assisted in the planning, set‐up, and operation of this local event, held at the Dillard High School Gymnasium and Cafeteria. Our young team improved in their skills in all areas of competition. A few mechanical and electrical problems slowed us down, but by the end of qualifying rounds, we had climbed to 6th and 9th place among 25 robots. By the beginning of final rounds, our robots were in the 3rd and 6th seed alliances. Our second robot and drive team were the 6th place alliance captains. Quarter‐finals play pitted our two robots against each other, and both drive teams played very well. In the end drive team #2 (Isaac Hobby, Tommy Kline, Frank Angione, and Alex Warters) moved on to the semifinals and then to the final rounds where they fell to a world‐class robot. Highlights of this event include:
Our Team finished as Finalists (2nd Place) in the competition.
Jennae Katic sang our National Anthem to start the day.
Headmaster Joel Satterly was able to attend part of our competition.
State Representative and WA parent George Moraitis was an honored guest & speaker. He was commended for his role in securing funding for FIRST Robotics Competition Teams in Florida.
FRC Team 744 — Shark Attack was recognized for their legislative initiative that culminated in securing $200,000.00 in state funding for
FIRST Robotics Competition Teams in Florida.
State Senator and WA parent Chris Smith was recognized for his strategic role in securing funding for FIRST Robotics Competition Teams in Florida.
Lead Mentor Kent Stolley received the Volunteer of the Year Award.