17 Nov

First Tournament for Shark‐Byte — FLL Robotics Team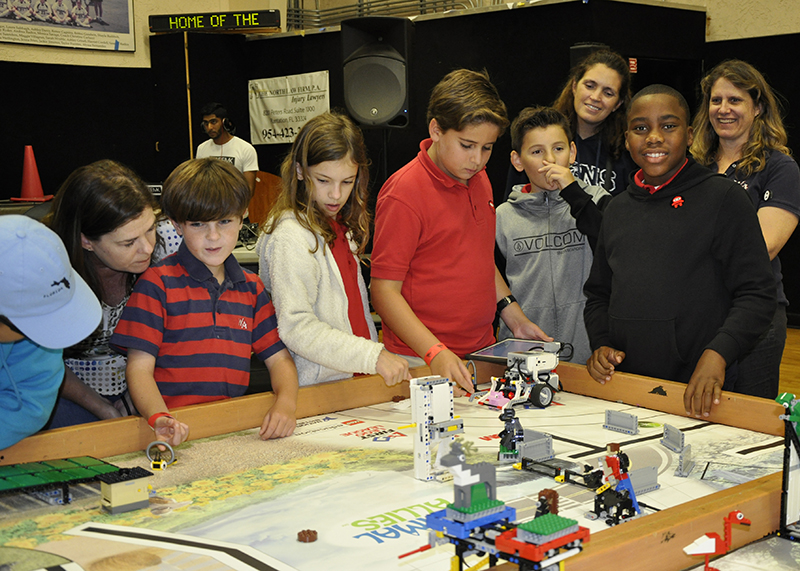 On Saturday, November 5, Westminster Academy's FIRST® LEGO® League robotics team #23808: "Shark‐Byte" (formerly the 'Westy‐bots'), competed in their very first practice tournament sponsored by the "Ninjineers" of American Heritage School.
The five Shark‐Byte team members spent the first half of their day gaining experience in judging sessions related to robot design, FIRST® Core Values, and the Animal Allies theme project. While blindfolded, our team successfully worked together to quickly organize themselves in order of shoe size during the teamwork challenge. In a later judging session, Lucas Greenwood shared our team's robot design strategy and expertly answered follow‐up questions posed by the judges. Stephen Seckinger and William Moreland also helped the team by enthusiastically and clearly communicating the team's problem‐solving strategy for the team project to the judges. Finally, Hannah Middleton scored points with the judges when she shared her understanding of the meaning of the FIRST® core value of "Gracious Professionalism."
Each team member also contributed to three successful robot matches. Nicholas Galgano's expert robot building skills provided the team with a solid and dependable robot during the competition, Stephen, worked diligently to write new programs so that the team could try new robot tasks and Hannah, William, and Lucas prepared and aligned the robot so that it could perform its tasks. While many of our competitors allowed only two team members to have hands‐on time during the robot matches, our team choreographed a plan to swap out team members during the match so that all Shark‐Byte team members were able to participate.
The teamwork demonstrated by Shark‐Byte throughout the day was noticed and appreciated by the judges, and earned the team the FIRST® LEGO® League Core Values award! The team had a great day working and learning together and will put that to good use as they prepare for the qualifying tournament which will be held on Saturday, January 21, 2017.
Go Shark‐Byte!