01 Jun

Veterans Honor Flight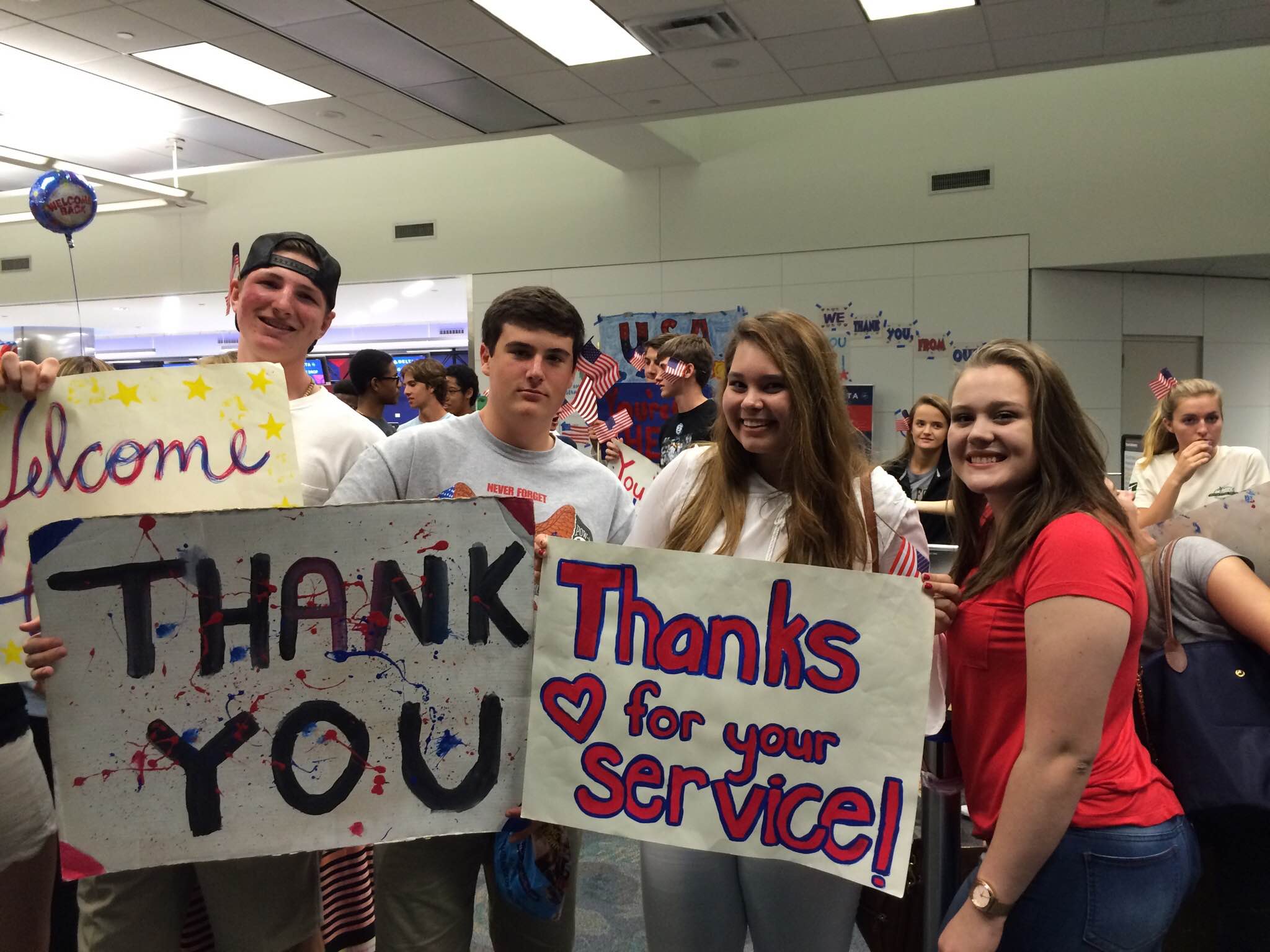 For the third year, Michelle Perry offered her history students extra credit for both writing a letter to WWII and Korean veterans as well as going to the "homecoming" at the Fort Lauderdale Airport as they return home from the Honor Flight to Washington DC.
Close to 40 students showed up with their families. Michelle Moore and Annie Shyne stood in the gap for Mrs. Perry as she was on the senior trip this year. Ninety‐five letters were distributed at "mail call" on the return flight.
Here is a letter from one of the veterans:
Words seldom fail me, but they do now. To say "thank you" for the wonderful opportunity you gave me just isn't enough. I so appreciate all the preparation, hard work, and tireless devotion you put into making this the most memorable trip of my lifetime. From the first moment, the delicious breakfast, the breezing through Security, the fire truck water salute, the goodies on the plane, the police escort in DC, (WOW!), the opportunity to visit the WWII Memorial and the other special sites, and having the military right alongside us the whole time…these are events that I will never forget.
By the way, someone told me that it was cold and rainy that day. Really? I never felt it.
Organizing "Mail Call" has to be a work of genius. I have never been so surprised in my life. The letters and cards I received are my dearest treasures now, and you can bet I will cherish them always. Thank you so very much for that!
And then the icing on the cake: The Homecoming! I doubt if I will ever come "down" from the "high" of it all. What an experience! I can't help but tear up now as I write about it. To say I was flabbergasted is a gross understatement!
I have to tell you that as I was wheeled through the airport to the crowd"s cheers of: "Thank you, William!", "We love you, Bill!", "God Bless You, Mr. Farrell", etc., I realized why you had made the patriotic name tags for all the vets. I just had to smile. Honor Flight had left no stone unturned. It was all so overwhelmingly AMAZING!
I can only hope you know how truly thankful I am
God Bless You, and God Bless America!
Forever Grateful,
Bill Farrell