12 May

Senior Chapel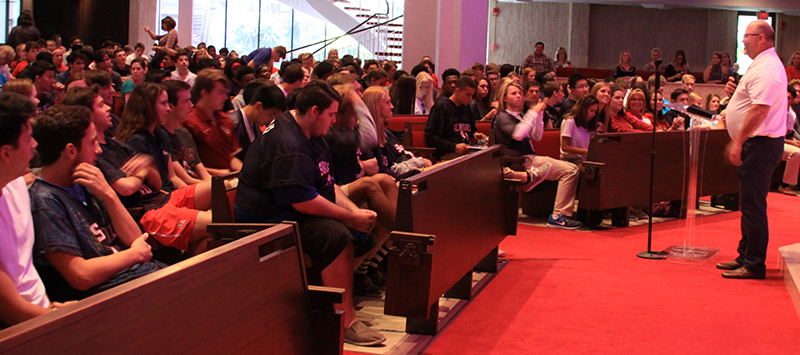 Mr. Walt Jominy and Mr. Leo Reilly led our Senior Chapel on Wednesday, May 11, 2016. When asked Mr. Jominy about the chapel this is what he said:
I have had the blessing to deliver my 15th Senior Chapel today. Senior Chapel is a time when we get to review and share in the graduating classes' experiences here at Westminster Academy. Students share with me beforehand many of the funny and exciting things they have done (some revealed for the first time). This is combined with submissions from elementary, middle and high school teachers as well as parents into about thirty minutes of Power Points, videos, and storytelling.
And the Class of 2016 had some great stories! A beehive found in Brendon Abernathy's locker that came from a Snapple bottle left open for an entire school year. A letter of apology written by then 8th grader Davi Santos re‐read aloud by his then 8th grade Math teacher Mrs. Hunter to great laughter as he tried to explain away his problems. Nick Miranda's daring flip dive from a tree followed by a victory slap of Thomas Messer that somehow went wrong. Long bus rides, sleepwalkers, and teenage crushes were all part of the tapestry of stories giving a picture of this amazing class.
Then, I shared excerpts from several Senior Papers that each was required to write about God's plan for their lives.
Linda Espinal wrote:
"This past year God has turned my life around, I went from wanting to apply to John Hopkins University to study biology and ultimately getting a medical degree, to enrolling into Word of Life's Bible Institute and partnering with them to build a bridge in between their ministry in the USA and group of high school kids in the Dominican Republic. After I finish with the BI I'm planning to get a degree in nursing and ultimately being a PICU nurse. Even though I'm going to be pursuing a nursing degree, I'm still planning to keep working with WOL's youth ministry and I know that even if a don't end up doing these things God has a greater and better plan for my life."
Finally, with what has become a Senior Class tradition of putting handprints on the wall of my Bible class with their name and college choice; I put them onto a PowerPoint with a comment about the impact that each Senior has had on their classmates (this year the comments were provided by the Senior Cheerleaders Kiersten Casey and Delaney Klassen)When I first started doing Senior Chapel 15 years ago, my Principal said: "What a privilege that they would share these stories with you". And it really has been, especially with the Class of 2016!
Congratulations Class of 2016, may God's blessings continue as you seek his face in your life calling.