07 Apr

WA Robotics Team Competition Update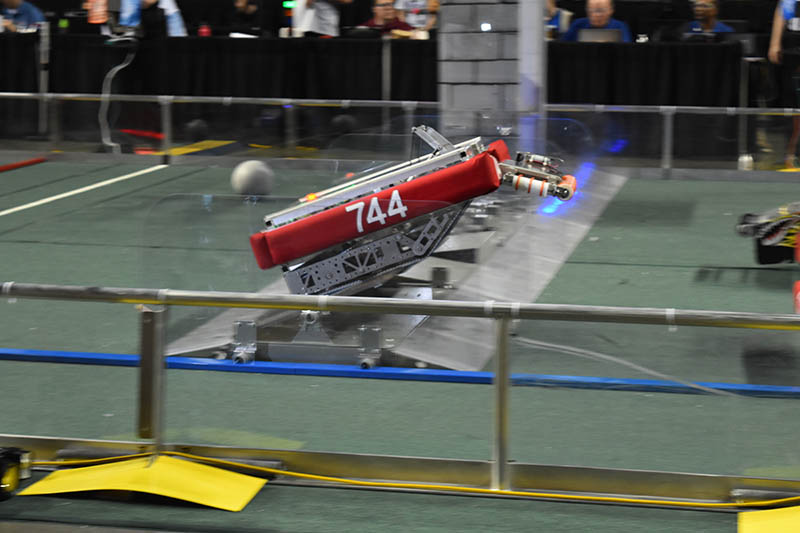 Our WA Robotics Team (FRC Team 744 — Shark Attack) had a busy and amazing competition season.
Our team traveled to Tallahassee and met with state representatives and senators on Thursday, February 25 to promote FIRST Robotics statewide. This marked the culmination of two years of work and resulted in our team being invited to provide the wording for a budget proposal in the State House. We garnered support for the budget proposal in the House, Senate, and Governors office. The final budget signed by Governor Rick Scott included the $200,000.00 in funding we proposed for Florida FIRST Robotics teams attending Florida competitions. We believe that high school robotics will flourish statewide as a result of this legislative initiative. Next session we hope to assist in proposed legislation to foster the growth of Robotics in future years. Our team would like to thank Senator Christopher Smith and State Representative George Moraitis for their great assistance in securing next year's funding.
On Wednesday, March 9 through Saturday, March 12, our team traveled to the CFE Arena at the University of Central Florida to compete in the Orlando Regional FIRST Robotics Competition. We finished in 4th place at the end of qualifying rounds and were invited to join the second seed team in the final rounds. We fell in the quarter‐finals to an amazing defense that destroyed both of our allied robots and damaged our own.
On Wednesday, March 30 through Saturday, April 2, our team traveled to the Palm Beach County Convention Center in West Palm Beach to compete in the South Florida Regional FIRST Robotics Competition. We finished in 10th place at the end of qualifying rounds and were the 7th seed alliance captains for the final rounds. We made it to the Semi‐Finals and lost to the alliance that went on to win the competition. The same team won at both regional events and kept us one step short of qualifying for the World Championships.
This year was the first year our team submitted for the coveted FIRST Robotics Chairman's Award. Some team attributes highlighted in our presentations were:
Lucaya International School in the Bahamas is exploring starting an FRC Team in Bahamas with our assistance. Administrators at LIS have advised that they have hired a teacher with robotics experience to lead the team. She will be visiting our campus in the near future to learn more about FIRST Robotics.
Mission of Hope Haiti is exploring starting an FRC Team in Haiti with our assistance. A representative from our team will visit Haiti this summer to assess their needs and to enhance our communications with Mission of Hope.
Several teams in China were mentored by our team through on off‐site website. Our team translated many FIRST documents into Chinese as part of this effort.
Legislative initiatives to Foster FIRST Robotics as described above
Huge growth of our team from 15 to 62 members in 6 years.
Huge growth in the number of women on our team from 13% to 37% in 6 years.
We were very active in assisting other local teams and hope to assist in starting a new Lego League team and an FTC team at Westminster Academy next year.