14 Apr

Pinnacle Awards Program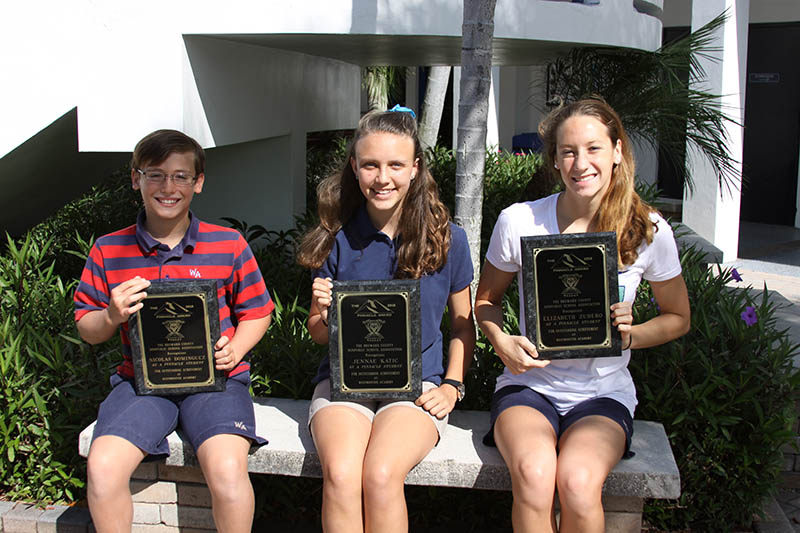 Elizabeth Zubero is described by faculty as thoughtful and caring. She has achieved magna or summa cum laude every semester of her high school career and is a member of the National Honor Society, and National Society of High School Scholars. Elizabeth spends approximately 18 hours each week participating in year‐round competitive swimming. Her accomplishments in the pool are most impressive. She broke a 30 year Westminster Academy record as a state finalist in the 200‐yard individual medley and has been recognized by the Miami Herald and Sun‐Sentinel. After graduation in May, Elizabeth plans to swim competitively at the collegiate level. Westminster Academy is proud to present the Pinnacle Award to Elizabeth Zubero.
Jennae Katic first came to Westminster Academy in 6th grade. Academically she excels, using all her gifts and talents for God's glory. She frequently helps other struggling with class material or extra‐curricular events. Jennae is active in the middle school band program, the National Junior Honor Society, and the middle school Latin club. Described by her teachers as a bright young woman of great character, Jennae meets every challenge with a smile on her face. She is a joy to work with and friend to all. Jennae received the Westminster Academy Middle School's Lion Award. This award is given to the student who lives every day ostensibly the Fruit of the Spirit: Love, joy, peace, patience, kindness, goodness, faithfulness, gentleness, and self‐control.
Nicolas Dominguez has attended Westminster Academy since the second grade. He is an exemplary student who excels in all areas. He works hard in everything he does, including academics and extracurricular activities. Nicolas is been involved with Student Council this year and is currently serving as the Lower School, President. He is responsible for running all meetings, making sure all of the events are running smoothly, and listening to his fellow students on new ideas to help make the Lower School better. Nicolas participates in many extracurricular activities, including Swimming, Technology Club, and Christian Science Institute Club. Nicolas has been swimming at WA since the second grade and has even competed at the Junior Olympics level in the 50‐meter butterfly. Nicolas participates in Children's Church and Sunday School at New Hope Community Church. He has also served as a volunteered at Vacation Bible School as well as in the community working with Broward Outreach, serving meals to the homeless. Nicolas is also an entrepreneur, being the co‐owner of Perfectly Pickle, a pickle business he and fellow WA student started a couple of years ago. They make their own pickles and have sold them at the annual Christmas Boutique.