18 Feb

Social Media Tip: @mentions & #hashtags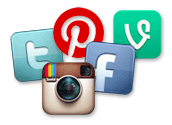 Both Twitter and Instagram allow users to use @mentions and #hashtags to link to profiles and posts on similar topics. WA uses @wacad for both Twitter and Instagram. If you include @wacad in something you post, it will create a link back to our profile pages. You can also share posts and images relating to WA by hashtagging them with #walions.
Use hashtags to categorize posts by keyword:
Use the hashtag symbol # before a relevant keyword or phrase (no spaces) in your post to categorize them and help others find relevant posts.
Clicking on a hashtagged word in any message shows you all other posts with that keyword.
Hashtags can occur anywhere in the post—at the beginning, middle or end.
Hashtagged words that become very popular can become trending topics on Twitter.
Using hashtags correctly:
If you post with a hashtag on a public account, anyone who does a search for that hashtag may find your post
Don't #spam #with #hashtags. Don't over‐tag a single post. (Best practices recommend using no more than 2 hashtags per post.)
Use hashtags only on posts relevant to the topic.
What is a mention?
A mention is any update that contains "@username" anywhere in the body of the post.
If you include more than one person's name in your post and you use the @username format, all of those people will see the post in their Mentions tab on Twitter.