02 Oct

2014 High School Spiritual Retreat Recap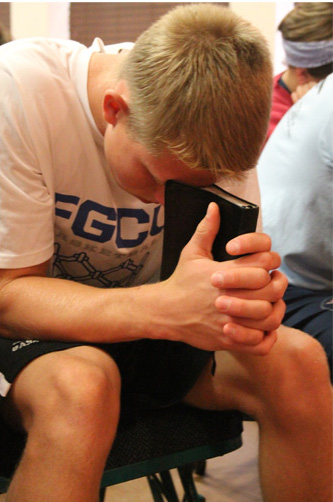 "Awesome!", "It was so much fun" and "Best part of the school year" were just a few of the energetic comments from students who attended the recent High School Spiritual Retreat. It was apparent on the Monday morning of September 22, that students were ecstatic to hop on the buses and head off to Lake Placid Christian Camp. The students arrived at lunchtime. They ate a quick meal and were dismissed for some free time. There were opportunities for fun at the camp—despite a little rain here and there—that included fun in the water, tubing down a water slide, kayaking on the lake, swimming, and inflatables to climb and slide off. Land activities included: beach volleyball (the Junior classes favorite activity), basketball (where Pastor Adam Masterson showed off his ball skills) and soccer (where students from all grades played together).
After free time the classes ate dinner and all the students met in the chapel where Pastor Eddie Bevill shared the message, Free Livin'. He said when he was young his old definition was doing anything he could get away with. He then shared how he was raised in a Christian home, but was not truly converted until he was in college. At the conclusion of chapel students were dismissed into their small groups. On the second day of camp the class competition's commenced. The junior class won the pyramid contest and the seniors were the volleyball champions. Later that evening, there were class bonfires. "I enjoyed the chance for a social time with everyone in my grade," said senior Brooke Oman.
On Wednesday morning the students cleaned up their rooms and hurried on to the buses, departing just after lunch and arrived at school tired, but more unified overall.
Thank you, to all the faculty and staff who helped with and participated in the camp. We know many seeds were planted and hearts and eyes were opened as bonds were strengthened among the students.
Article written by Daniel Wood '16