25 Sep

Free Livin'—High School Spiritual Retreat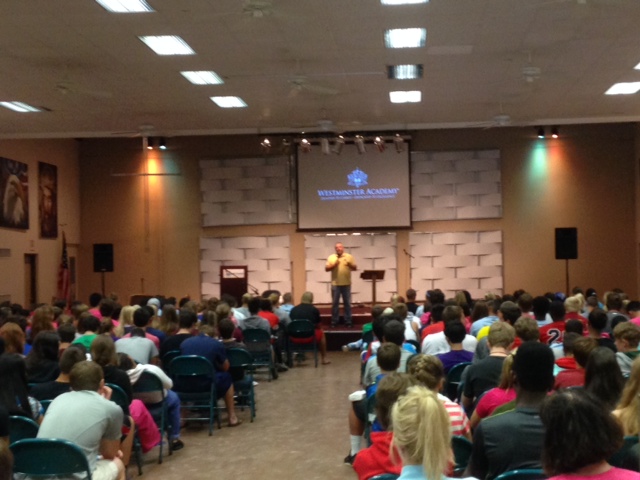 This week was very exciting for our high school students as they loaded the buses early Monday morning and headed off to Lake Placid Camp for the annual Spiritual Retreat. Conversations were light and joyful as the students talked about the next few days and all of the activities planned. After the brief bus trip the students enjoyed a nice lunch and then began enjoying the many camp activities. The weather held off long enough that the students enjoyed the water activities, slip & slide, zip line, climbing wall and challenge course. There was also a lot of competition on the soccer field, basketball court and GaGa Ball pit. Lightening storms moved in during the afternoon and the students enjoyed time in their cabins playing indoor games and fellowship. After dinner the student worship team of Victoria Bevill, Kaitlyn Moore, Brock Boland, Alan Imber and Anthony Jacaruso led the students in worship in preparation for Pastor Bevill's message. This very talented group of students began each session. The students listened intently as Pastor Eddie Bevill began his series of messages on Free Livin' from Galatians 5. Pastor Bevill prepared a set of discussion points to guide the adult leaders as they held cabin devotions after his talk. The evening ended as the students gathered on the grounds and enjoyed fellowship and conversation before retiring for the night.
Tuesday was filled with activities, beginning with the second talk by Pastor Bevill and a time for cabin devotions. After lunch the students once again were able to enjoy all of the camp activities and were blessed with beautiful weather. Class competitions were held in human pyramid building (won by the junior class) and boys volleyball (won by the senior boys). The seniors then went on to defeat the faculty team by a very close 21–17 score. After dinner Pastor Bevill delivered his final message and challenged the students. He challenged the students to examine their lives not from the outward appearance, but what is really going on inside. Is freedom what he thought of as a teenager—doing whatever you want without getting caught; or is it the ability to serve a loving God with the freedom of knowing that we have everything we need through Jesus Christ? The evening ended with class bonfires, senior movie night and sophomore sundaes. The sophomore class had the highest percentage of retreat attendance and was treated to a special sundae bar.
Wednesday was spent packing and preparing to return to WA. Before leaving there was a time of community prayer and students were able to lead in sharing their hearts with God. Campus Pastor Adam Masterson closed the time with an encouragement to the students to take the seeds planted over these three days and water them into deeper personal relationships with Jesus Christ and one another.