18 Sep

2014 Yearbook Staff Receives Gold Medal Award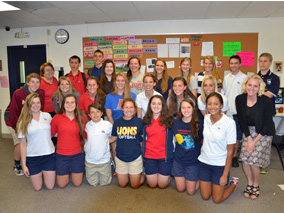 Congratulations to the 2014 Optime staff for receiving a Gold Medal Award from Columbia Scholastic Press Association (CSPA) and a First Place from National Scholastic Press Association NSPA.
"I have read many private K‐12 schools' books, and very few of them give as much balance to the upper and lower schools as you have managed to do here. In all, this is a great book. I am impressed that such a small staff managed to produce such a high‐quality book," one of CSPA's judge's commented.
The 2013–2014 editors were, Ashton Anderson, Emily Bishop and Laura Peed. Well done to the entire yearbook staff, which spans middle and high school.
"I am so proud of you. It was a privilege to work with you and have you as friends. Remember, without Him, our STRIV(E)ing would be losing! I love you," said Ms. Carol Neal, yearbook mentor and teacher at WA for 43 years, until her recent retirement at the end of the last school year.
Well done Yearbook Lions, we are extremely proud of you for your hard work and dedication. Thank you, Carol for all the years you have faithfully served the Lord through your ministry at WA.
2013–2014 Optime Staff
Ashton Anderson '14
Lucas Barbosa
Brandon Bejarano '14
Emily Bishop '14
Jeremy Bishop
Shyler Carlson
Bailey Fleck
Veronica Fulton
Erika Hall
Hanna Harms
Ben Hunter
Becky Kurth
Ryan LaCerra
Ally Lalonde
Elizabeth Meadows
Alex Pagliaro '14
Laura Peed '14
Ali Sampo
Brianna Simon '14
Carly Spangler
Emily Stevenson
Taylor Strickland
Nikki Torres '14
Amanda Wood
Lauren Yoder '14

Mrs. Brooke Perry (mentor)