06 May

Lamplighter Award Reading Program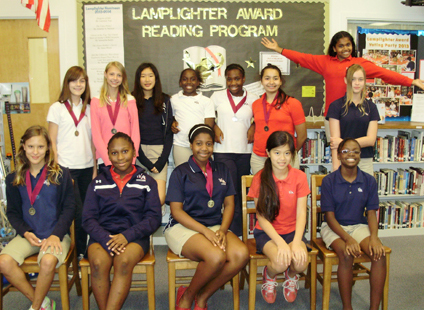 An exciting program that the upper school library/media center offers to the middle school students is the Lamplighter Award Reading Program. The mission of the program is to encourage middle school students to read books with wholesome values, uplifting characters, and edifying themes that inspire children toward positive goals. These current books are selected by a committee of readers from participating schools. Students that have read 5 or more Lamplighters are invited to a Pizza and Ice Cream Sundae Lunch in April and then vote for their favorite book. Each vote is then submitted to the national voting website. Students that read all 10 of the Nominees are given a medal for their accomplishment. This year our voting party was on April 25th, 2014. Below is a list of the students that participated (those with an asterisk read the complete list and received a medal):
*Audrey Aguiar (Grade 6)
Abigail Rowe (Grade 6)
*Chelsea Brown (Grade 7)
*Hannah Brown (Grade 7)
Danielle Douglas (Grade 7)
*Christine Kamm (Grade 7)
Syene Kulendran (Grade 7)
*Arianna Loucks (Grade 7)
Jessica McKenzie (Grade 7)
Sarah Mursell (Grade 7)
Alice Park (Grade 7)
*Treson Scalf (Grade 7)
*Sydney Yu (Grade 8)
Parents, please encourage your son or daughter to participate in this program. Summer is a great time to start reading the Lamplighter Nominees (many are available already in the public library).