12 Dec

Book Review Of One Wintry Night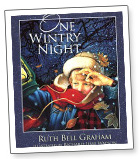 A fun December idea that was presented to me when my children were little was to wrap a Christmas book for each of the days before Christmas. Over time I accumulated enough books to do this. Some were small and inexpensive. But some were notably special. Each night before bed one of my kids would be selected to pick a book out of the basket of wrapped books. That same child would unwrap the book and we would read it together as a family. One of the really special books was One Wintry Night by Ruth Bell Graham (illustrated by Richard Jesse Watson). This book has enough content that it would need to be stretched out over several nights (perhaps read the smaller ones in addition on these nights).
What is so special about this book? It starts out telling of a young boy who has lost his way in the mountains. He finds his way to a log cabin and a helpful woman that lives there. The next morning he wakes to discover he is unable to make it home on his own. So, the woman in the log cabin decides to tell him the Christmas story. She starts at the very beginning. "Almost 2,000 years ago," she says and proceeds to tell many details leading up to Jesus's birth and beyond. The artwork is beautiful and eye-catching, one would not want to miss seeing page 48 (a most amazing depiction of a lion). Two copies of this title are available in the Lower School Media Center.
Written by Bonnie Thompson, Upper School Media Specialist